1. On the main humble webTill page, navigate to the Cash Up icon located on the top of the screen.



TIP: Before starting a Cash Up on the till please ensure you have done the following
Counted all the cash in your cash drawer
Set aside your Float
Tallied all Card slips
Tallied all Payouts slips
We recommend that all Card and Petty Cash slips be kept in the cash drawer or on a "spike" near the till to ensure that they do not get lost. This makes it easier to tally the slips and check everything if there is a difference in the cash up.

2. On the Cash Up screen you will be presented with two options. One for a Store Cash Up and a Cashier Cash Up.
This means that you can either process a Store Cash Up, where you process one cash up for ALL your cashiers or you can do a Cashier Cash Up where you process a cash up for EACH of your cashiers.



3. Should you select a StoreCash Up, you will be led directly to the Cash Declaration screen.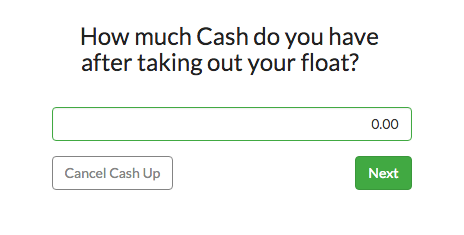 If you select a Cashier Cash Up you will be resented with a list of all the cashiers with outstanding cash ups. Select the cashier you would like to cash up and you will then be directed to the declaration screen

4. The humble Till will never display how much money is needed for a cash up but rather requires the user to declare how much money they have in their cash drawer.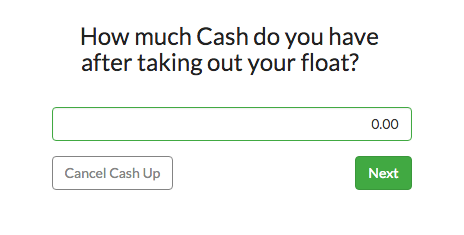 5. Once you have entered in all the money you have and clicked Next, the till will show you your cash up totals. The till will automatically pull through your totals for Card, SnapScan, Account and Pay Outs. If any changes are made on the Cash Up Screen, this is logged by the system and captured on the Staff Audit Log report
This summary allows you to view the amount of the cash, cards, SnapScan and accounts that have been declared, before processing your cash up. Any differences can also be viewed on this screen

6. Once you are happy, navigate to and click on Finish located to the right side of the screen. 
7. Once you have clicked on Finish, the humble webTill will automatically create a Cash Up RePrint Report which you will be able to print or save.