Follow these steps to pair your Socket mobile scanner with your Android device, making selling that much easier! 
Ensure your scanner batteries have been fully charged and inserted into the scanner before pairing.

1. On your Android device, navigate to the Google Play Store, and search for SocketScan App and install the app.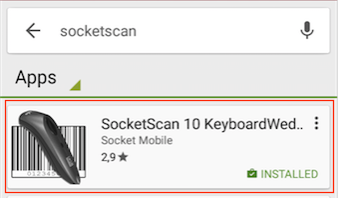 2. Once installed, open the SocketScan app to being the pairing process. On the screen you should see a list of options. Please make sure that there is a tick next to "Enable SocketScan" and "Turn On Bluetooth". When you select "Switch Your Keyboard" the app will take you to your Keyboard settings, please ensure you switch on the SocketScan keyboard on your device. Then Select "Turn On Your Scanner"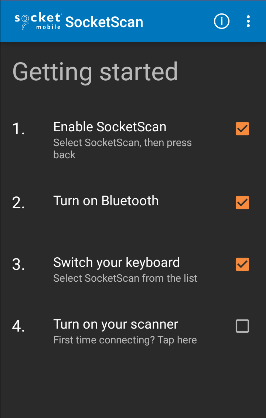 3. Navigate to and click on the "On-screen" button in the "Using on-screen barcode" section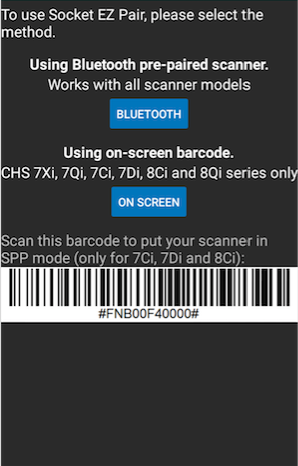 4. Click on the 1D Scanner button to pair Socketmobile 7ci and 8ci scanners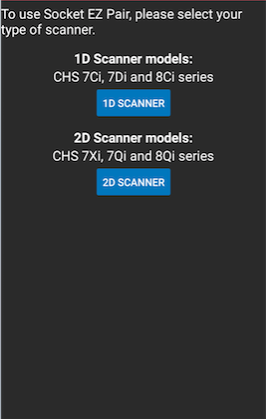 5. 
The device will now show a barcode that you should scan to pair your socket scanner.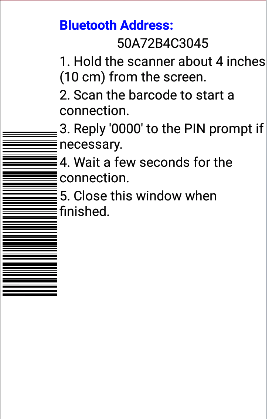 6. Using the Socketmobile scanner, scan the barcode that appears on your Android device, the scanner will beep once it has paired with your device and a pop up will appear for you to accept the pairing.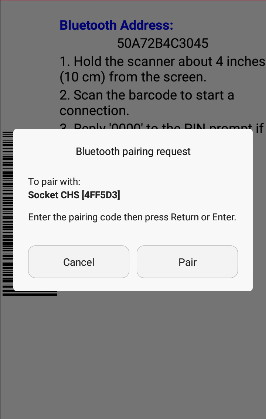 7. Once paired, the Socketmobile Scanner will appear as "Connected" in the list of Paired Devices on your device's Bluetooth Settings.
8. 
You can now log onto your humble till app on your Android device, and select 
Bluetooth scanner set up.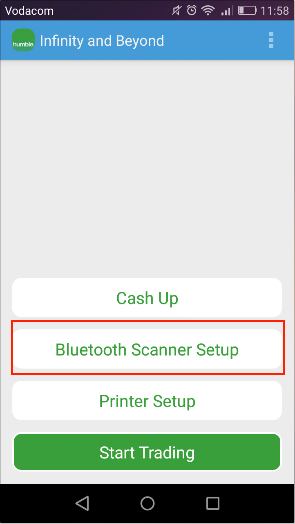 9. The till will now search for your scanner settings.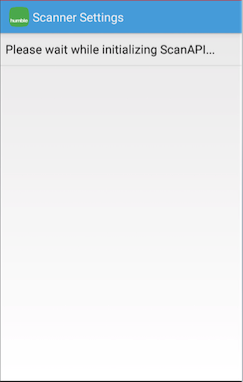 10. When the scanner address, Socket CHS (******) appears on the screen select it to connect the scanner to your till. You can now use your Socketmobile Scanner to make sales on your humble Till.